Learn how to save for a down payment and build your credit score so you can buy your first home


Do you want to be a homeowner or real estate investor, but don't know how to start from zero?
Are you wondering how to save for a down payment or improve your credit score to qualify for a mortgage?
If so, you're not alone, and you've come to the right place!

Our Story

When we started working at our first full-time positions, we worried that we would be stuck working at jobs we didn't like until we were too old to enjoy our lives.
We wanted to create financial freedom for ourselves which is why we looked into real estate investing.
That way we could create passive cash flow to increase our wealth and create time for ourselves.


But when we wanted to buy our first properties, we realized how hard it was to save up to get a mortgage.


We needed a significant amount of capital to get started and solid credit scores to secure financing.
So we began studying how to improve our finances,
boost our income, lower our expenses, invest, and ultimately save for a down payment in order to build our rental portfolio.

Our lives changed when we took action.


Sharon went from $30k/year to millionaire at 30. And Sean went from engineer to quitting his job and building his dream life.
By implementing these steps we've managed to build a 7-figure net worth, leave the 9 to 5, and scale our rental portfolio to produce monthly cash flow.
By Working on Our Finances, We've Managed to:


- Create a strong financial foundation and mindset
- Build a 7-figure net worth
- Maintain a 6-figure emergency fund aside from our investments
- Build our credit scores over 800
- Increase our rental portfolio to 33 units
- Leave our 9-5 jobs
The Struggle and Why YOU Should Take This Course


One of the most common questions we get is how to start investing if you don't have enough for the down payment, or how to get approved for a loan if your credit score is too low
90% of millionaires are invested in real estate, and many of you have told us that you want to start. But you've also told us that your financial situation is holding you back.
That's why we created Rental Ready Finances to give you the strong financial fundamentals to buy your first rental property.
Introducing Rental Ready Finances


In this course, we will get you from knowing nothing about personal finance to becoming confident with an action plan to buy your first property. 
This course includes:

- 45+ video modules ($499 value)
- 10+ worksheets, quizzes, and homework assignments ($150 value), including:
- Our net worth, expenses, and income trackers
- Our resources and tools to use that will help your journey
- Continuous updates to the course at no additional cost. ($150 value)
- We are committed to adding more BONUS course content.
You'll learn key fundamentals on how to prepare your finances including:
- The exact amount of money, income, and the credit score you need to buy your first home 
- How to increase your income through side hustles, negotiation tactics on how to boost your salary, and building high income skills
- How to grow your net worth by investing
- Best practices to reduce your spending 
- How your credit score is calculated and ways to improve it
- And we'll help you create a strategy with milestones and goals around getting out of debt and saving for your down payment!
Check out Danny's Testimonial of Rental Ready Finances!

Danny Lee
, 
Rental Ready Finances Student
Check out Philip's Testimonial of Rental Ready Finances!

Philip Jacob-Frigon
,
Engineer / Rental Ready Finances Student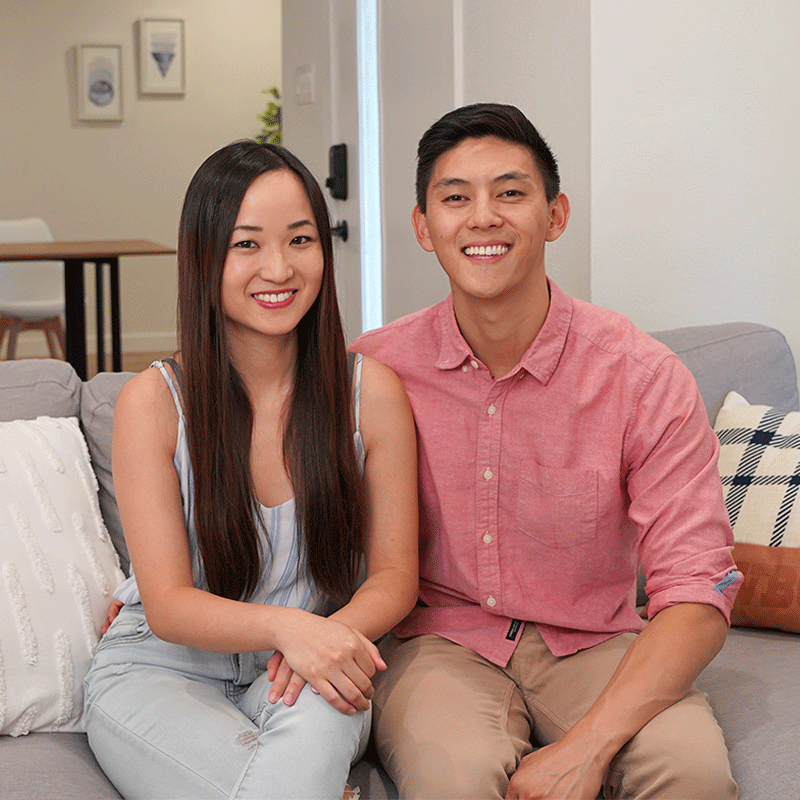 Hi, We're Sean and Sharon!
We're investors and creators who teach people how to build generational wealth through real estate investing.

We love helping our amazing community of over 3 million people! We are passionate about helping you build passive income, become financially free, and design their best lives.

You SHOULD NOT Take This Course If...
- You're already a sophisticated real estate investor with multiple properties. The information in this course is presented in an easily digestible format for those that want to get into real estate investing but don't have the means to purchase it yet.

- You don't want to learn or put in the work to get your money in order.

But, you SHOULD take this course if:

- You're interested in taking action on your finances.
- You're living paycheck to paycheck but want to create a savings plan to eventually own your own home.
- You want to improve your credit score to start qualifying for loans.
- You want to learn how to exponentially grow your wealth through investing and side hustles
- You want to know exactly how much you need to purchase your first property.


Screenshots From The Course

Frequently Asked Questions


When does the course start and finish?
This is a completely self-paced online course - you decide when you start and when you finish!


How long do I have access to the course?
How does lifetime access sound? After enrolling, you have unlimited access to this course for as long as you like - across any and all devices you own.


What if I am unhappy with the course? Do you offer refunds?
We would never want you to be unhappy! If you are unsatisfied with your purchase, contact us in the first 15 days and we will give you a full refund. All we ask is that you provide evidence that you've put these methods into place by showing your notes with who you've contacted and the homework assignments that you've completed so far.


What if I barely know anything about personal finance and don't think I'll ever be able to buy a property?
No problem! This course is designed for ABSOLUTE beginners who feel like they don't have a clue about how their finances work. We simplify all of the steps that you need to realistically save for a down payment and give you detailed steps on what you can do to improve your credit score so that you can qualify for a mortgage in the near future!


Do you ever update the course?
Absolutely! We will update everything as needed and will pay close attention to the information and its relevancy. You'll get FREE LIFETIME ACCESS to all future content!


Is my credit card secure?
The platform uses Stripe Express to process credit/debit card transactions, as well as allows for PayPal payments. So feel comfortable knowing your transaction is protected from fraud.
We're Excited to Have You!


We hope this was a great breakdown of what Rental Ready Finances includes, and we're really excited to help you financially prepare yourself to buy your first home.


Don't make the same mistakes we did when we started out as the opportunity cost of wasting time is way too high!


And to note, the price of this course
WILL INCREASE as more content is added but if you
enroll in the course today,
you'll get
 FREE LIFETIME ACCESS
 to all current and future content.
Our Honest Disclaimer
With this knowledge you have the potential to prepare your finances to buy your first rental property. While we believe you can be successful through following the program, we want to make sure you understand this is not a get-rich-quick scheme and your results may vary. Your success depends on how much action you take and how consistent you are with it.
This offering is for educational purposes - please remember that investments involve risk and you should do your own due diligence before investing. We are not responsible for any losses, damages, or trauma you may incur in your own investing. Please consult with a certified professional before making any financial decisions.